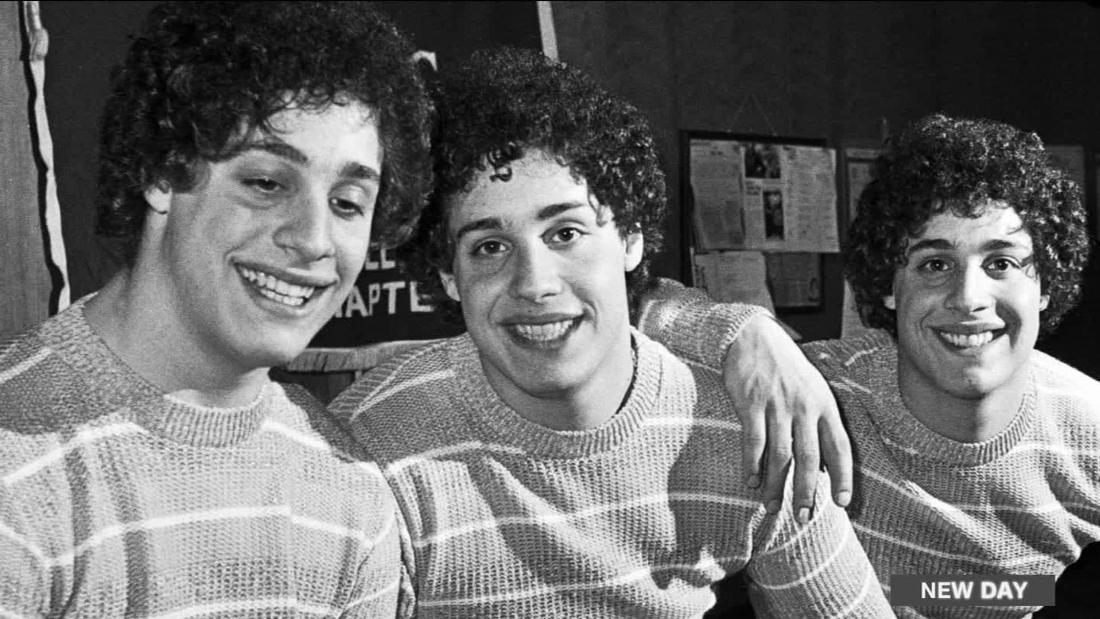 (CNN)"Three Identical Strangers" tells an astonishing story, and the saga is even bigger than what's seen on screen.
Here are five things you may not know about the documentary:
1. There was a long fight to get access to sealed study records – but they didn't end up in the film.
As the film explains, triplets Robert Shafran, Eddy Galland and David Kellman were separated at birth by an adoption agency called Louise Wise Services. They were placed into different homes, and their adoptive families had no clue their sons had been born with siblings.
The brothers, along with other multiples who were separated, were then unknowing participants in a yearslong study by child psychiatrist Dr. Peter Neubauer. The results of the study, which examined the question of "nature vs. nurture," were never published, and the study's materials are being kept under seal at Yale University.
Now those files aren't as hidden as they once were. As they were making the documentary, the "Three Identical Strangers" team helped the brothers fight for access to their records.
"We were driven by the injustice on the behalf of the brothers,"
director Wardle says
. "(Producer) Becky (Read) spent nine months working with the brothers to access the material … files and footage that should rightfully be theirs."
After months of dogged pursuit, the brothers received nearly 11,000 pages of records, information that hadn't been seen in decades.
The reason you don't see more of this material in the film is because it was released after the film was finished, and the team didn't think the heavily redacted documents would add much to the story.
"There's a huge amount of personal stuff in those records that are private for a reason," Read says. "To access their records for the first time in years … that, I think, has been an accomplishment to them. To have some sense of ownership of this after having no control for many years over how their lives were orchestrated."
2. Those unsealed records included video of the experiment.
The brothers talk candidly in the documentary about what it was like to be studied, completely unaware that the tests they were being given were not part of a routine child development study.
"I remember from a very young age, people would come to the house, usually a young man and a young woman, and they had me taking tests," Kellman says in the documentary. "I remember the filming more than anything else. … Every single time they came they filmed."
When the brothers won access to their study records, they found hours of video from those visits. They've shared some of that material here.
"The footage is like a time capsule, measuring these boys' lives kind of year by year," Wardle says. "I think for the brothers, watching the footage for the first time was an incredibly emotional experience. … They're seeing their whole childhood play out."
3. Everyone was nervous the film would get pulled.
The filmmaking team knew going in that telling this story was going to be a challenge. They first needed to earn the trust of the brothers, and then they needed to track down the truth about a study so deeply buried that other projects had been shut down, Wardle and his team say.
"People had tried to tell this story before; we learned of at least three attempts by major US networks, two in the '80s and one in the '90s,"
Wardle says
. "In each case, we spoke to people who'd been involved in those projects and they told us they got a long way through getting it ready to go … and it had been pulled at the last minute by people higher up."
All of which left Wardle and his crew on edge.
"There was a huge amount of paranoia … people (were) telling us, 'There's no way you're going to be able to make this story, you will get shut down, it will get pulled,'" Wardle says. "I think a large part of making the film was just trying to stop ourselves from getting paranoid."
4. The documentary helped another set of multiples reunite.
Michele Mordkoff, 54, saw "Three Identical Strangers" last year when it was in theaters. She, too, had been adopted from Louise Wise Services, and she began to wonder if she might have a twin.
Weeks later, Mordkoff's Ancestry.com results revealed an "immediate family member" she never knew she had: a twin sister named Allison.
"I think it was three weeks from the time that I found out I may be a twin to the time where I met Allison, and it felt like three years," Mordkoff says. "I wanted to see her, and I wanted to hug her, and tell her that I hope she's OK and that life was good for her."
5. 'Three Identical Strangers' is part of a larger story on medical ethics.
One of the lingering questions of "Three Identical Strangers" is how such a study would be allowed in the first place.
But you don't have to go far back in time to see other painful examples of what's been done in the name of scientific research. From the wartime atrocities performed by Nazi doctors to a Chinese scientist's claim last year that he had modified twin babies' DNA before their birth,
take a closer look at the past, present and future of medical ethics.
Original Article : HERE ; This post was curated & posted using : RealSpecific
Thank you for taking the time to read our article.

If you enjoyed our content, we'd really appreciate some "love" with a share or two.

And ... Don't forget to have fun!